Most modern SUVs feature a built-in wind-deflecting spoiler on the rear window to help the car stay fuel efficient. But, having a trunk-mounted bike rack installed on a SUV with rear spoiler can get messy as the paint may easily get scratched. As most trunk-mount bike rack models won't work on cars with spoilers, an obvious got-to solution would be a hatch-mount bike rack. Nevertheless, you'll need a receiver hatch for it and most hatch-mount bike carriers don't come cheap.
Fortunately, we've found five models of bike racks (three of them are truck-mount ones) that will fit most SUVs with rear spoilers and won't break the bank like a name brand rack would. So, here are our top picks:
5. Allen Sports MT-2 Ultra-Compact Bike Rack
Assembly:
Fully assembled
Tie downs:
Individual straps
Cradle types:
Dual-compound tie-down cradles
Weight:
8 pounds/ 3.6 kilograms
The Allen Sports MT-2 ultra-compact bike rack is a great basic bike carrier for people with SUVs that lack a hitch or simply do not need to carry the bike long distances. This rack was designed for really short trips unless you plan to stop every hour to check the straps. The product is one of the best in this price range. It sets up easily, folds down super small, and is very easy to carry around. A great value for the price. However, before purchasing it we recommend checking the manufacturer's 'Rack Finder' page to see if this rack is a good fit for your  SUV model.
Pros
Very compact
Quick and easy to set up
Inexpensive
Lightweight
Cons
Not durable
Metal hooks lack protective coating – they may scratch car paint
Fits only basic, lightweight bikes
Frame material:
Powder-coated steel/ 100% recyclable plastic
Assembly:
Fully assembled
Tie downs:
Ratcheting anti-sway straps
Weight:
11 pounds/ 5 kilograms
This adjustable bike rack has been designed to fit rear spoilers on almost any vehicle, including SUVs. The rack is easy to use and easy on both the bikes and the car, per the manufacturer. The Saris Bones 801 bike rack is made of heavy-duty and rust-resistant materials, with the plastic parts being 100% recyclable. What's more, with each orange, red, or pink rack you buy, a portion of the profit will go to the National MS Society, World Bicycle Relief, and Breast Cancer Research, respectively.
Pros
Rust-free, injected-molded arms and legs
U.S.A.-made
Lightweight
Sleek minimalist design
4.5/5.0 rating by Bicycling Magazine
Cons
Not for MTBs
Not strong enough for 3 adult bikes
May scratch paint with no padding
3. Allen Sports Deluxe Hitch-Mounted Bike Rack
Assembly:
Fully pre-assembled
Bike Mounting System:
Allen's patented tie-down system
Weight:
21 pounds/ 9.5 kilograms
If you are on a tight budget but are worried about paint scratches, you should get this hitch-mounted bike rack. The Allen Sports Deluxe hitch-mounted bike rack is 4 to 6 times cheaper than a name brand hitch bike carrier but surprisingly it gets the job done. The rack is well designed and sturdy and comes with two key features that can prove very handy.
First, the rack can be dropped without having to remove it from the receiver hitch, which is a major plus when you want to open the back hatch of your SUV. Second, the 'cradles' on which bikes sit can be rotated along the pole, which enables the rack to accommodate kids' bikes as well. This model can hold up to three bikes, but there's also a 5-bike version. This rack is exceptionally practically when you need to save as much cargo space inside your car as possible when going on long trips.
Pros
Hinge pin near the rack bottom for quick access to the trunk
Sturdy
Cradles can be rotated around the metal pole
Folds down for easy storage
Cheap
Cons
A bit wobbly in the receiver
The included  9/16″ pin for the hitch is too large for a standard hitch pin (5/8″)
Not for off-road or trailers
2. BV Bike Bicycle Hitch-Mount Rack Carrier
Type:
Hitch-mounted (Tray style)
Assembly:
Fully assembled
Bike Mounting System:
3-point connection system
Weight:
39 pounds/ 17.5 kilograms
This bicycle rack carrier was build to last. It is very heavy duty, pairs down securely with your car's receiver hitch with minimum wobbling. It matches 1.25″ shank but it comes with a 2″ adapter. Each bike is securely fastened in one place via three points of secure contact with Velcro fasteners. Thanks to the bike rack's tilt back design, you can easily access the trunk without taking the rack down. As a bonus, it comes with a safety reflector for extra night driving safety. All in all, it is a heavy duty rack and a great value for the price.
Pros
Very solid
No wobbling between the bike rack and hitch
Adjustable wheel holders for various bike sizes, including for kids' bikes
Trunk door can be opened when the rack's on
Safety reflector
Cons
No bike locking mechanism
On the heavy side
1. Hollywood Racks Over-The-Top Trunk Mounted Bike Rack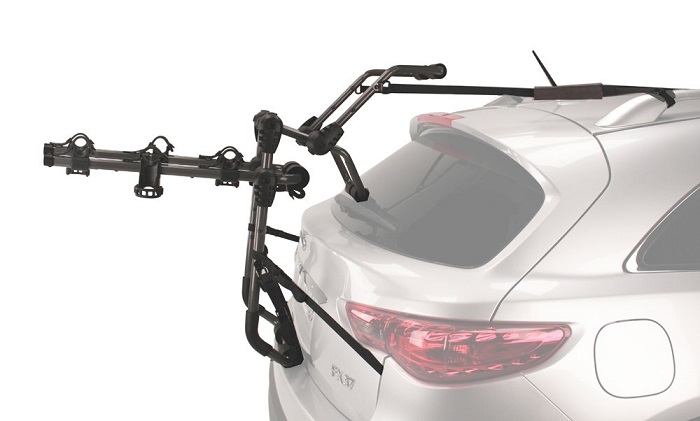 Assembly:
Fully pre-assembled
Tie downs:
EPDM rubber straps 
Cradle types:
Rubber anti-sway bike cradle
Weight:
21 pounds/ 9.5 kilograms
This bike rack is a marvel of engineering. It is sold build, high-quality, and will fit most SUVs with a rear spoiler. Unlike other similar racks that promise but don't deliver, this bike mount comes with a high-rise adjustable frame, which guarantees that no hard parts will make contact with your car's rear spoiler.
So, if you want to skip the install-a-hitch-for-the-rack part, but are the proud owner of an SUV with a rear spoiler, then this bike carrier is one of the best, if not THE best trunk-mounted bike rack in this price range that you can get right now. And on top of that, it comes with a limited lifetime warranty.
Pros
Fantastic design
Anti-sway bike cradles
High-rise, over-the-top, fully adjustable frame
Hatch anchors and fast-connect hooks for roof racks, trunks, and hatches included
Specifically designed for cars with spoiler
Folds down flat
Cons
Ladies bikes, kids' bikes, and some MTBs may require a bike frame adapter for this bike carrier
Initial setup may take some time
Conclusion
There are trunk mount bike racks out there that can get the job done just like hitch mount racks. And there are hitch mount racks that you won't have to pay an arm and a leg for. If you have an SUV with spoiler, things can get complicated when looking for a compatible bike rack. Fortunately, we've got you and your pocket covered. What do you think of our selection of the best bike racks for SUV with spoiler? Have we missed a great rack for SUVs with rear spoilers? Share your thoughts in the comments below.